Growing Your Recruitment Business to the next level can be hard work. You will need to be determined, fierce and strategic. Here are some critical tips on how to grow your recruitment business, whether it's by expanding your team, entering new markets or implementing new technology.
1. Start within your business
One of the biggest challenges within recruitment companies is retaining their own talent. Although recruiters jobs are to maintain and attract talent, many agencies struggle to provide the same consideration when internally sourcing.
Focus on your talent attraction and retention strategies, including everything from employee branding and engagement, to having a clear idea on why talent should join your business. Having a strong strategy will help and strengthen your capability of attracting quality over quantity.  Avocating your culture is essential to sustain your team collaboration and wellbeing. Being especially important in today's climate, as Gen Z starts to enter the workplace; A recent study by YouGov reported 55% of genZ would be enticed by companies that care about employees' health and wellbeing.
Consider how talent will integrate into your company culture and what they can bring to help the business's growth. So it is essential, when hiring, it is also based on their fit within the company and not just their achievements. Having strong leadership and investing in employees should be a focus within your strategy. Regular courses, digital material and external assistance should all be part of your plan to help support and develop employees' growth and support overall business growth.
2. Set strategic goals
Have a clear business plan that you can communicate both externally and internally. The benefits of sharing goals with your team include greater staff engagement, supporting attraction and retention of talent, and a more vital coherent brand message. Your business plan should cover areas such as marketing strategy, customer understanding and international trajectory.
A recurring problem that small recruitment businesses have is the lack of brand awareness and an efficient marketing strategy. The most crucial factors a brand should show are experience and knowledge and ultimately trust its clients. Some of the tools you should be using are social media, your business website, content, visual and written, and SEO, though there any many more that you should be exploring.
3. Foundations of your business
Your recruitment consultants aren't the only vital part of your business; although they do bring in business, they are supported by back-office employees who are equally crucial to the process of conversion.
The right foundation, along with a robust technology, supports the inflow in placements, payroll and contracts as the business expands. Having the right CRM will help your journey in growing and evolving to reflect legislation changes, such as introducing IR35. The employment of your technologies is essential, so planning will always be wise. There are advantages to outsourcing these functions, frequently more cost-effective and allows you to focus on implementing your growth strategy.
Other factors to consider when growing your business is ensuring you have the cash flow to support growth—not having the support when growing can lead to many additional pressures and challenges. Substantial cash collections should be a priority to safeguard your cash reserves, which will inevitably fund your growth process. Alternatively, there are many finance options available for recruiters. These provide you with instant access to your cash reserves, saving you the hassle and risk of waiting 30+days for clients to pay. Ensure you choose the recruitment finance solution that fits your needs and is flexible enough to allow room for growth.
4.Pick your niche
Recruiters with the highest profitability and most significant growth are either specialists or are in niche (or ultra-niche) business models. You will have the temptation to take on multiple sectors and roles, but focusing on your chosen industry and training your team will allow you to become true specialists in your industry.
If you have the opportunity to enter a new industry or market, make sure you strategically plan your next move. You will need to do some market research to establish demands, challenges, candidate attraction and client acquisition.
Ready for growth?
Growth is essential for any business, but growth that is sustainable and managed in the right way is even better. It is about striking a balance between your ambition and what you need to do to grow it.
Please speak to a member of our Business Development Team on 01594888518 to find out how Simplicity can help you achieve sustainable growth through our financial, back-office and technology solutions.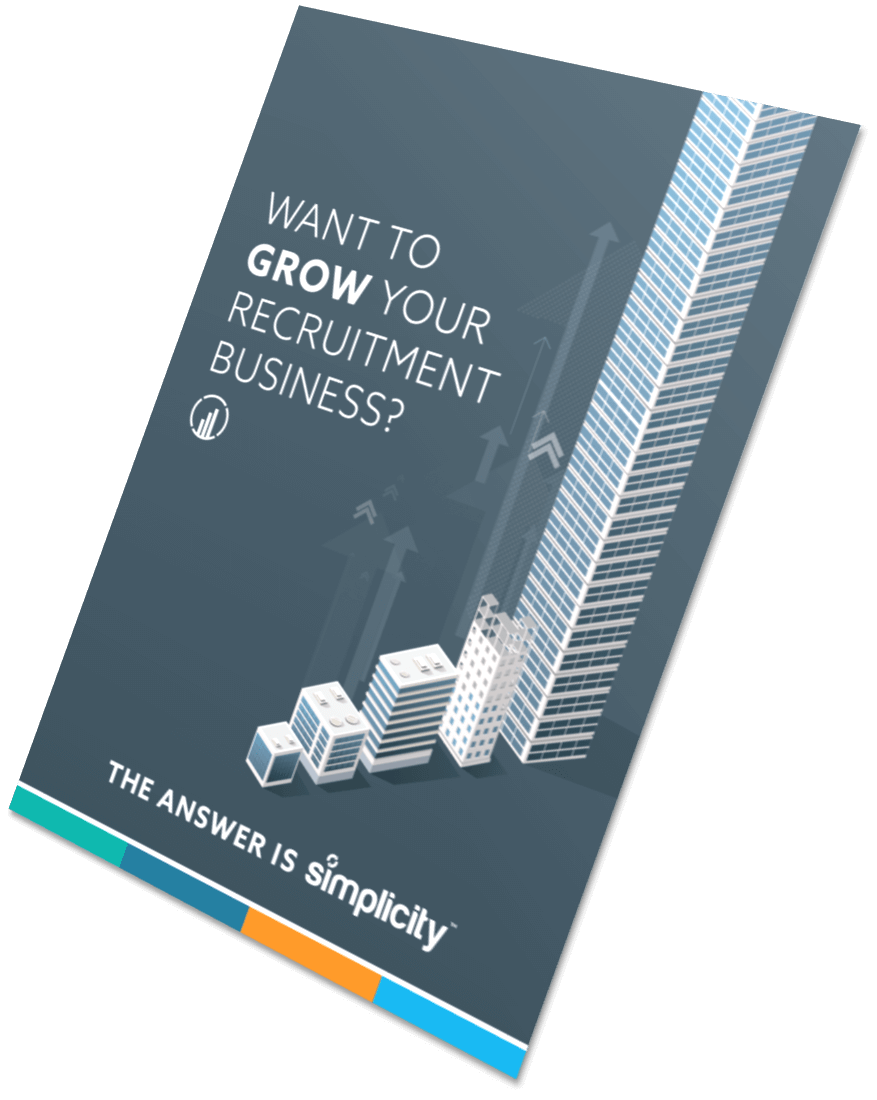 download our brochure
Our Established Agency Solutions brochure will give you an insight into how Simplicity can help you grow your recruitment business.
Plus, gain FREE access to our resources hub where you can get the latest industry news, insights and tips on how to achieve faster, smarter, growth.
Download Now