Employment in the UK may be at its highest for almost a generation with companies experiencing skill shortages across many industries. At the same time, the potential cost of going to university for many students has acted as an incentive to find alternative ways to gain the skills and knowledge needed to get into many careers including construction, engineering and accounting. This is where the true value of an apprenticeship comes to the fore.
The last couple of years have seen a rise in the amount of investment in apprenticeships from both governments and organisations alike.  They are increasingly recognising that apprentices can be invaluable in helping organisations to better manage and develop their talent pipeline for the future.
The benefit of apprentices for employers is clear, with official figures suggesting that apprentices are 25% more employable than those who took an alternative route into work. But there are other benefits too, such as:
Develop new recruits to meet your needs: 82% of employers take on apprentices to build the skills capacity within their businesses.
Flexibility for existing employees: Free up your existing workforce so they can do what they do best.
Give your team new skills and energy: 96% of apprentice employers say they are beneficial to their business
(source: Apprenticeship News)
As a major employer ourselves, we have and continue to recruit apprentices for roles across the business. For instance, last year, Harry Stacey joined us as an apprentice in the Sales department, Charlie Docherty took up an opportunity within the Payroll division alongside Jess Howard (Credit Administration) and Oliver Thomas (Partner Support). All four have successfully passed their apprenticeship to become permanent members of the Simplicity team. More recently, Kelsey Thomas has started her Marketing apprenticeship along with Jack Fortey, who is undertaking a Sales apprenticeship. We look forward to supporting their development over the coming months and years.
Since 2010, we have been experiencing steady growth year on year and like all businesses this can only be achieved by having the right people, in the right roles. Apprenticeships are an essential part of our overall recruiting strategy -that's why apprenticeships are such a great idea for business. For more information on how to grow your business with apprentices find out more here: Hire an apprentice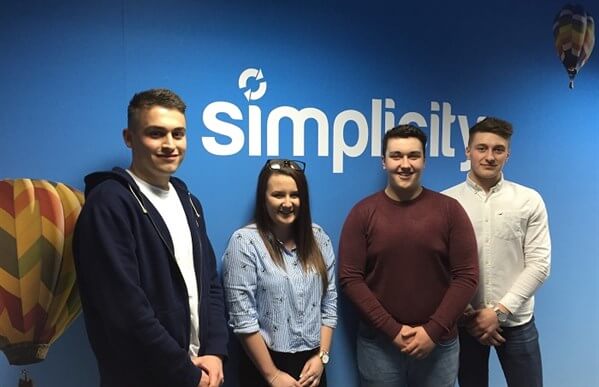 From left to right: Charlie Docherty, Jess Howard, Oliver Thomas and Harry Stacey.