For a temp agency, skilful administration is essential for operational efficiency. It's not just about maintaining contact details; the pivotal information – like worker availability, specialisation, Right to Work documents, worked hours, job history, and payment particulars – necessitates secure storage and frequent updates. Are you grappling with spreadsheets or an inadequate system for managing clients, bookings, and jobs? Is it time to embrace an online timesheet platform, and what additional advantages can be reaped by transitioning to online timesheets?
Conventional paper-based timekeeping methods come with the following pitfalls:
Inflexibility: Last-minute situations like staff illnesses or overpayments can't be swiftly addressed, leading to time-consuming corrections.
Abuse Potential: The tendency to round up or overestimate hours, even by small amounts weekly, can accumulate significantly and is challenging to monitor.
Inaccuracy: Amidst the whirlwind of day-to-day tasks, errors due to duplication, legibility issues, and other demands become almost inevitable.
Time Consumption: Manual timesheet processing and collection, coupled with administrative obligations, can convolute operations and slow down progress.
Legality Concerns: After gathering time-based data, transitioning it to a payroll system while maintaining compliance with ever-evolving regulations poses challenges.
So, as a solution, what can online timesheets offer?
Accessible Scheduling: A scheduling tool accessible 24/7 from any internet-enabled device.
Enhanced Data Management: A more thorough and precise approach to time-scheduling data management, minimising manual interventions.
Swift Error Detection: Errors are more easily discernible and promptly rectifiable.
Reduced Paperwork: Substantially diminished paperwork and administrative burden, coupled with improved communication via automated notifications for schedules and shift availability.
Flexible Data Analysis: Easily manipulable and reportable data, liberating staff time.
Integration Potential: Seamless integration with other recruitment software systems, automating operations like payroll and ensuring compliance and accuracy.
Overall, online timesheets present a smarter operation method, allowing a dedicated focus on business sustenance and growth, ultimately translating into amplified profit margins.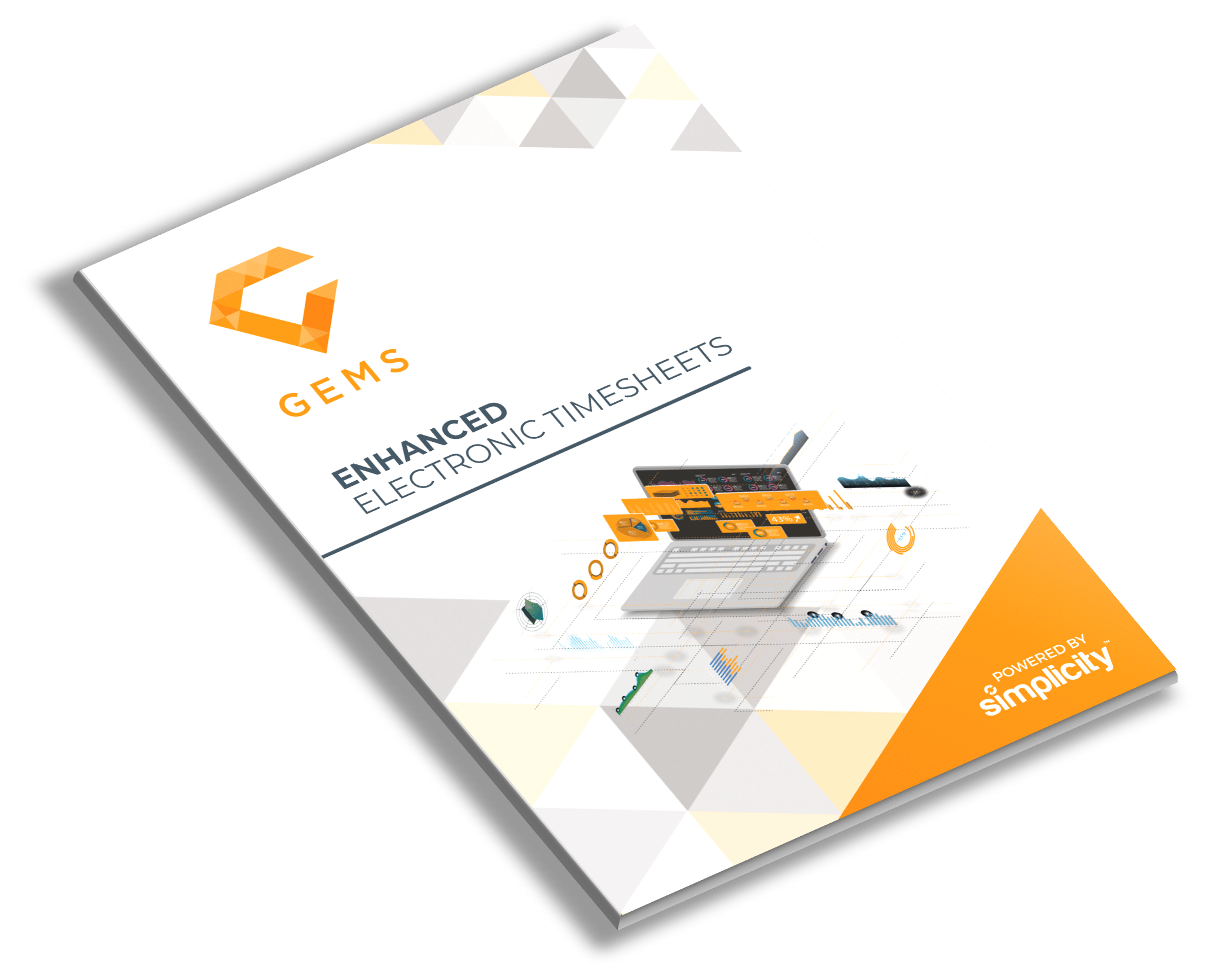 ENHANCED Electronic Timesheet brochure
Welcome to a more efficient & Simple way of processing timesheets.
GEMS Enhanced Electronic Timesheet feature enables a quick and easy process for clients to authorise timesheets without having to handle the paperwork.
Download Now