Discover the fundamentals of recruitment regulations and legislation, including all you need to know about licences, GDPR, and the REC.
We understand that legal language may be confusing, so we've reviewed all the acts and addendums to help you understand the fundamentals.
Read more to ensure your company is legally compliant.
Is the recruitment industry governed?
One frequent assumption about the recruitment market is that agencies are not held accountable – this is not the case. Instead, recruitment agencies are strictly regulated and must follow a set of legislative guidelines.
Is licencing required for recruitment agencies?
While the sector is regulated, most agencies do not require a licence to operate – with a few exceptions.
If an agency offers employees to the agriculture, horticulture or food processing/packaging industries, it will need a Gangmaster and Labour Abuse Authority (GLAA) permit.
Care, especially nursing, may be required to register with the Care Quality Commission (CQC).
What are the rules for recruitment agencies?
The Employment Agencies Act of 1973 was initially enacted to licence enterprises in the recruitment sector, and the Conduct of Employment Agencies and Employment Companies Regulations of 2003 apply to all recruitment agencies.
While agencies are no longer needed to obtain this licence (due to the Deregulation and Contracting Out Act 1994, later superseded by the Regulatory Reform Act 2001), the requirements remain in force.
Critical points in employment legislation
While you should study the Employment Agencies Act to ensure you're entirely compliant, we've simplified some of the main aspects.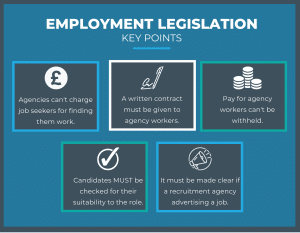 It is prohibited to charge candidates for job placement. Job searchers can expect to pay the price only if they want to employ an additional service, such as CV writing or career counselling.
Agency workers must be furnished with a documented contract. This must contain information on compensation, notice period, holiday entitlement, and whether they work under a service or employment contract.
Agency workers' pay cannot be withheld. Even if the employer is dissatisfied, the disagreement is between the employer and the agency.
Agencies must verify candidates' fitness. Recruiters are legally mandated to screen candidates to ensure they have the necessary skills and credentials.
It must be evident that a recruitment agency is advertising the post. This notifies the candidate that they are not applying directly to the company.
What other laws should recruiters be aware of?
Regarding staffing, recruitment agencies must declare any payments received if PAYE is not used and submit information about the employees and why PAYE was not implemented. In other words, you must declare it if you provide labour but do not collect income tax.
Agency Workers Regulations apply to temporary agency employees to limit workplace discrimination. These ensure that workers receive the same salary, holidays, and working conditions as permanent employees, while workers are frequently required to work for 12 weeks before acquiring full rights.
While this covers ordinary employment, it also applies to recruitment. When hiring employees, employers and recruiters are not permitted to use prejudice. Age, gender, ethnicity, religion, and marital status are protected traits. Even if a business outsources its hiring to a recruitment company, they are still liable if the recruiter violates the law.
Like any other company that gathers personal information, recruitment agencies are subject to the Data Protection Act. A recruitment company, in particular, must exercise caution in maintaining company and applicant data.
The EU created the General Data Protection Regulation, which operates with the UK Data Protection Act. GDPR requires applicants to consent to data collection and have the option to object. It also provides them with authority to request that data be removed.
The CAP Code establishes guidelines for advertising and marketing communications. In this case, it states that employment advertisements must be genuine, not deceptive, and state who is selling it (i.e., is the role being sold by an agency?).
Who are the regulatory bodies in charge of recruitment?
The Employment Agencies Standards Inspectorate (EAS) enforces recruitment sector standards, which were established as part of the Business, Enterprise, and Regulatory Reform Act to guarantee that the terms of the Employment Agencies Act 1973 are followed.
Inspectors must investigate every relevant complaint and have the authority to enter buildings and punish agencies. While the EAS handles complaints and can apply to prevent persons from running agencies, other organisations assist in keeping industry standards high.
The Association of Professional Staffing Companies (APSC) and the Recruitment and Employment Confederation (REC) (APSCo)
The Recruitment and Employment Confederation (REC) and the Associate of Professional Recruitment Agencies (APSCo) are the two largest membership groups for recruitment companies.
These organisations assist agencies and guarantee that high standards are maintained across the industry.
The REC is the market's leading professional organisation, with over 10,500 individual members and 3,300 businesses. Members must follow a Code of Professional Practice, and agencies must pass a compliance exam every two years. In addition, APSCo is a body akin to the REC with its own Code of Conduct.
The REC and APSCo (together with the other entities) provide a variety of advantages to their members. You may learn more about them by visiting their websites.
Conclusion
Rules and regulations aren't always easy to understand, but this simple guide should help you understand the significant actions you must know.
*Please note that this information has been provided purely as a guide and should not be construed as legal advice. Simplicity accepts no responsibility for any actions done as a result of reading this material.