The Global Recruiter Awards ceremony 2022 has just passed, with some great recruiters winning awards. Throughout the evening, the recruitment businesses nominated to be award winners celebrated their hard work and outstanding achievements.
As a sponsor of the event, Simplicity presented the best temporary consultant and permanent consultant awards, and there were many other awards to be won, from; best employer brand and marketing campaigns to training and innovation awards.
We enjoyed bottomless drinks, tasty canapes and some fabulous entertainment throughout the night. However, there is a more serious side to awards, and here we delve into the top reasons why you should enter your business.
Gaining recognition within the industry
When you enter your business into industry awards, you will create brand awareness without knowing it, even before attending the event. Furthermore, entering will bring extra attention to your business, even if you don't win.
Moreover, you will obtain significant publicity at every point of the event's journey, from the nomination announcement to the night of the ceremony. For example, you gain publicity via social media, email, news articles, and even word of mouth.
When your company is nominated, all the hard work, you and your employees have put in has been recognised. Furthermore, boosting team morale, increase motivation, and aiding retention.
An Opportunity to Network
During the event, your business has a chance to network with potential clients, prospects and suppliers. Alternatively, your business could be recognised and scouted by sponsors resulting in a collaboration. You could gain many new and exciting opportunities by standing out and impressing the sponsors. Consider the ceremony as free marketing.
Winning the competition
Winning an award confirms you have the upper hand against your competition. So, naturally, you will want to show off that your business is at the top of its game. Promote your business online with the winning headline, setting you above your competition.
Additionally, winning will give your business a unique selling point (USP). When promoting your company, highlight your new USP to make a statement and stand out further from the competition.
Increase in sales
Increasing sales is most businesses' top priority. Therefore, as the best benefit of all, entering your business into industry awards can only be an advantage to your business, especially if you win. So, it is a no-brainer to register your business for industry awards.
How to register
To register, you need to research industry awards online and apply in relation to your line of work. In addition to research and depending upon the awards you enter your business into, there may be a standard fee to enter. Nevertheless, many competitions are free to enter, so ensure you thoroughly research to find the award best suited to your business.
Lastly, before signing your business up, it is imperative you read the terms and conditions, as there may be a term or condition that opposes your guidelines. Also, ensure you are entering your business into the relevant category.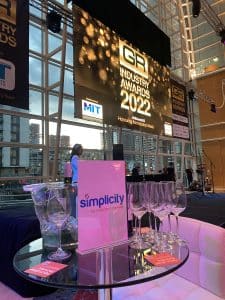 The Global Recruiter Awards 2022
Congratulations to the winners of this year's Best Temp & Perm Consultants categories, sponsored by Simplicity and all of the other winners at this year's Global Recruiter Awards.
Best Temporary Consultant Winner: Cameron De Wit – Carrington West
'The winner of this category has enjoyed a fast-moving career, demonstrating attention to detail for their candidates, taking care to help diverse people into the role that suits them.'
Best Permanent Consultant Winner: Amy Hambleton – RedLaw Recruitment
'This consultant delivered impressive billings but combined it with strong leadership, mentoring and management work. The judges said this was really someone for peers to aspire to.'
Head to the Global Recruiters website to learn more about the event and who won awards this year here.