Do you specialise solely in the Temp recruitment market? Have you ever thought about moving into the Perm recruitment market? Setting up a perm desk comes with many advantages, and there has never been a better time until now to dip your toes in the Perm market. Here we discuss why setting up a perm desk is the way forward and how you can reap the rewards from a flourishing market.
The Perm market is flourishing
Permanent vacancies are hitting a record high in the UK. In Q2 2022, the number of job vacancies hit a new record of 1,300,000 in May, suggesting companies are struggling to hire. However, luckily for recruiters, this is where they can take advantage and showcase their skills, helping businesses who are looking for candidates. As a result, the UK employment market is relying heavily on recruiters, positively impacting the recruitment industry.
But what about the placements, or should I say lack of?
With the unemployment rate at a record low, the effects of BREXIT, and not forgetting covid, employers are reporting a decrease in the number of qualified candidates. But this is where recruiters are being relied on the most. During the first quarter on 2022 (January-March), the Office of National Statistics (ONS) reported 994,000 job-to-job moves, driven by resignations rather than dismissals. This means that although the unemployment rates are the lowest, people are switching jobs, and perm recruiters are the key to driving this increase. With the proper knowledge and expertise, perm recruiters are head-hunting the quality candidates that employers are seeking.
So how can I benefit from opening a perm desk?
Providing clients with a premium perm placement service means you can charge premium fees. On average, perm recruiters charge anything from 10% to 20%, depending on the sector and the placement's salary. However, some recruiters in niche markets charge 25% – 30% for suitable placements, which tend to be based on large salaries. As no payroll is required on the recruiter's behalf, perm placement invoices are purely profit based. So, based on the average charges, we'll let you do the maths and determine how you could benefit from a perm desk.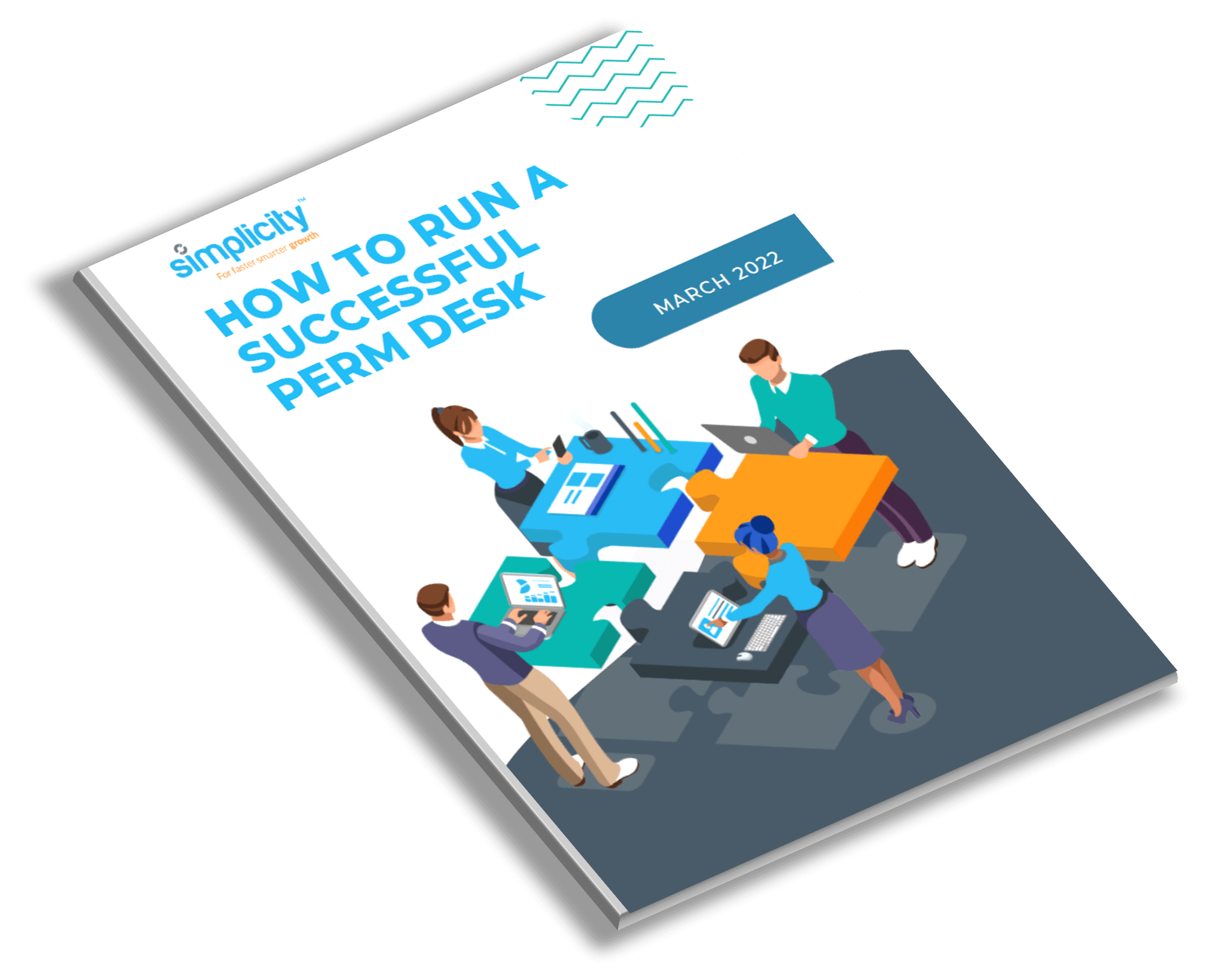 Download our Free Perm Recruitment Guide
Download your copy of 'How To Run A Successful Perm Desk', our practical and simple guide to starting and maintaining a successful perm recruitment business.
Plus, gain FREE access to our resources hub where you can get the latest industry news, insights and tips on how to achieve faster, smarter, growth.
Download Now
Did you know Simplicity offers a perm finance solution?
With our solutions, you can grow your permanent recruitment business without limits by removing the financial constraints you may face. With 100% finance on Perm invoices, full back-office support and recruitment technology, you can leave the non-profitable tasks to us and concentrate on what you do best – source new talent and win business.
Keep it simple. Get in touch.
To find out more about our Perm Finance Solution, please get in touch with the sales team on 01594 888518 or email sales@simplicityinbusiness.com