The number of UK recruitment agencies adopting Simplicity's GEMS Technology has hit the 1000-user mark within the first year of its launch.
GEMS is a unique CRM and workflow solution specifically designed for recruiters. The technology was launched in November 2017 by one of the UK's leading providers of finance and back office solutions, Simplicity. GEMS combines the recruitment front and back office processes into one simple system allowing recruiters to manage everything via a single workflow management platform.
Having to manage multiple recruitment systems can prove costly and laborious. This in turn means double-entry, which can be time consuming and leaves room for error. What's more, the complexity of many recruitment systems can create more work for recruiters, distracting them from growing their business.
Simplicity's Managing Director and pioneer behind GEMS David Thornhill comments "Recruitment technology is constantly evolving and as the recruitment industry itself continues to grow, so does the demand on recruiters to deliver a service that is faster, smarter and more efficient than ever before. This is where GEMS makes a real difference.
GEMS is much more than just a CRM system. The purpose of the technology is simple – to help busy recruiters save time, become more efficient and reduce costs."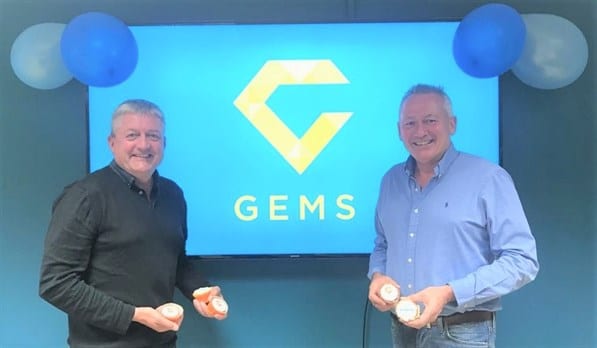 From left to right; David Thornhill, Managing Director and Jonathan Viney, Partner Support Director.
Early analysis and feedback from GEMS users has revealed these key significant benefits.
"With the power of GEMS we have reduced our staffing costs and the time our admin takes enabling us to grow more and service our clients" Davey Hamilton, M1 Recruitment Ltd.
Jonathan Viney, Partner Support Director at Simplicity comments "The feedback from current users has exceeded our expectations. It is truly revolutionising the way in which recruitment business leaders run their agencies both in terms of the significant cost and time savings reported.
In doing so, recruiters add greater value to the recruitment process by utilising their skills, industry insights and influencing their ability to deliver a great service. This in turn, increases sales and positively impacts the bottom line – the elements of recruitment that machines cannot do."
With the number of recruitment agencies operating in the UK at a record-high, the need for recruitment business leaders to streamline their operations, increase efficiencies and become more competitive has never been greater.