The 2020 pandemic caused a large hiring freeze in several businesses, and when the world of recruitment reopened in 2022, we saw not just an increase in service demand but also noteworthy changes in what candidates prioritised in their job search.
The struggle for talent has never been fiercer in today's recruiting sector, and businesses must adapt to stand out in the employer market.
So, in 2023, what are job searchers seeking? The four top priorities on candidates' lists are broken down below.

.
Pay Transparency
In today's talent-rich market, prospects want to know what they're getting into before clicking "apply." According to Indeed statistics from 2022, jobseekers' top goal while looking for work is more compensation. Amid a 'cost of living crisis,' applicants left their employment at the end of 2022 for better pay elsewhere.
A defined wage range in your job advertisement is critical for attracting great candidates. Perhaps you believe not including salary is a good approach to managing expectations. However, with evidence indicating that compensation is the top consideration for job seekers, a lack of wage transparency will almost certainly result in your job post being missed.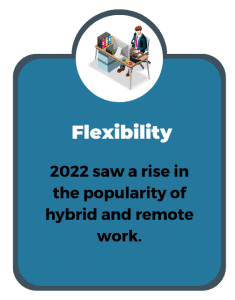 .
Flexibility  
The popularity of hybrid and remote work will increase in 2022, which is expected to continue through 2023.
According to UK Government data, before the 2020 Covid-19 pandemic, '12%' of the UK workforce worked at home at least one day per week in 2019. Rising to '22%' by 2020. Employees received a taste of work outside the office after multiple lockdowns forced a speedy transition to totally remote working. According to UK Government 2021-2022 research, more than '80%' of employees who worked from home during the pandemic favoured hybrid work methods.
This innovative working style quickly spread to job platforms, with Indeed statistics from 2022 showing a record high in searches for remote employment openings.

.
Employer Branding 
Employer branding is a developing trend in the world of recruiting, and it is progressively becoming a big contribution to the quality of candidates that organisations are attracting.
Contrary to popular belief, company branding is all about the employee. Strong employer branding incorporates corporate values and culture into your organisation's overall brand.
According to Glassdoor data, '75%' of active job searchers are more inclined to apply for a position if the company actively manages its employer brand. 
Think beyond job boards and websites; social media has an increasing effect on job searchers and is an excellent tool for corporate branding. According to Glassdoor research, '68%' of millennials check an employer's social media to assess the business culture.

.
Career Progression  
The labour market in 2020 was especially volatile. However, in 2023, job applicants hope to advance in their jobs, with a renewed focus on seeking an opportunity to broaden their skill set and take on new responsibilities.
According to Indeed statistics from 2022, 'expand my career path' is the second most important motivator for candidates starting their job hunt.
As an employer, focusing on staff training and development is a fantastic method to meet this requirement.
Simplicity is here to help.
With the assistance of Simplicity's solutions, recruiters start, prosper, and grow. Simplicity offers recruiting technology as well as financial and back-office support.
To learn how we can help you call 01594 888518 or email sales@simplicityinbusiness.com to speak with one of our experts.
Keep It Simple. Get In Touch.
Read our latest blog, Starting and running a Recruitment agency