The recruitment sector overall has continued to make a good recovery across the top industries. In the first three weeks of December, we have seen the activity rise by 4.68% since November. Showing that the recruitment sector is continuing remarkable resilience coming out of the second lockdown.
We are hoping that the strength of the recruitment industry in Q4 2020, will be a good starting point for a healthy First Quarter in the New Year.
Construction
Construction is of course a sector that tends to start slowing down as we head towards the festive period and take a well-deserved Christmas holiday. So, it's not much of a shock to see that activity has dropped off slightly this month by 3.53%, and we predict that it will continue to drop further for the remainder of December. January should bring an increase in activity for construction and could continue to increase into March. What will be interesting to see is whether the Stamp Duty Holiday ending on the 31st March 2021, will cause an effect on construction firms involved in residential contracts in the future. But what's to say the commercial side of construction will have picked back up again by then?
Industrial
Lockdown 2.0 did not affect the Industrial sector, and in December it has continued to show strength by an increase of 3.31% in activity. Primarily due to the fact the Government is trying to support as many sectors as possible, whilst still trying to stop the spread of the virus. The industrial sector has been allowed to continue business, as long as safety measures are in place to protect the workforce, which means that this sector has continued to bounce back since the first lockdown period.
Engineering
Engineering, on the other hand, has continued to decrease by 17.52% this month. The decrease is not as steep as November but is still concerning for the sector, as it has continued to show a decline since the end of October. Uncertainty surrounding the pandemic will mainly be the cause of this, as businesses are holding back on projects until they can see more stability in the economy.
Healthcare
One sector that has shown strength throughout the pandemic has undoubtedly been Healthcare. So, we are surprised to find that this month has seen a reduction in activity by 11.68%. Most businesses that we provide funding for supply care workers. Therefore, this decrease in this sector is most probably due to a reduction in care home occupancy and a reaction to the Government's plan to ban care workers from moving between care homes. These businesses could already be cautious of this and are planning to ensure that they have the permanent staff in place, for when the new restrictions are confirmed.
Driving & Commercial
Driving has seen an even higher increase in activity this month of 17.52%. Which I am sure we will all be aware is due to the surge in Christmas Deliveries. News in October reported that The Royal Mail alone required between 20-30,000 extra temps to help during the festive season. So, it is no surprise to also see that Commercial has seen an increase of 7.07% in December, to continue the fulfilment of the supply-chain during the festive season. It will be interesting to see how both these sectors perform in January, after the Christmas rush is over and the Winter sales begin.
IT
The IT sector has continued to flourish, with an even higher increase this month of 22.91%. Businesses are continuing to use technology as part of their mission to become more efficient, and IT companies are welcoming them with open arms. We predict that this is one industry that will continue to grow, and we might also see perms start to pick up in this sector, after more businesses begin to take on IT as a permanent fixture within their business plans moving forward.
Education
Last month saw Education take a slight decrease off the back of the school holidays. In December so far, the education sector has shown the highest increase in activity by 28.86%. We believe this is not only due to the school holidays the previous month, but also temp cover required for teachers, and Teaching Assistants forced to isolate after increases in COVID-19 infection rates in schools.
The Recruitment Activity Report will provide you with a brief insight into the average activity of the top sectors Simplicity have funded during this month so far, and how it compares to the previous months activity. Please feel free to download the FULL Report, via the following form;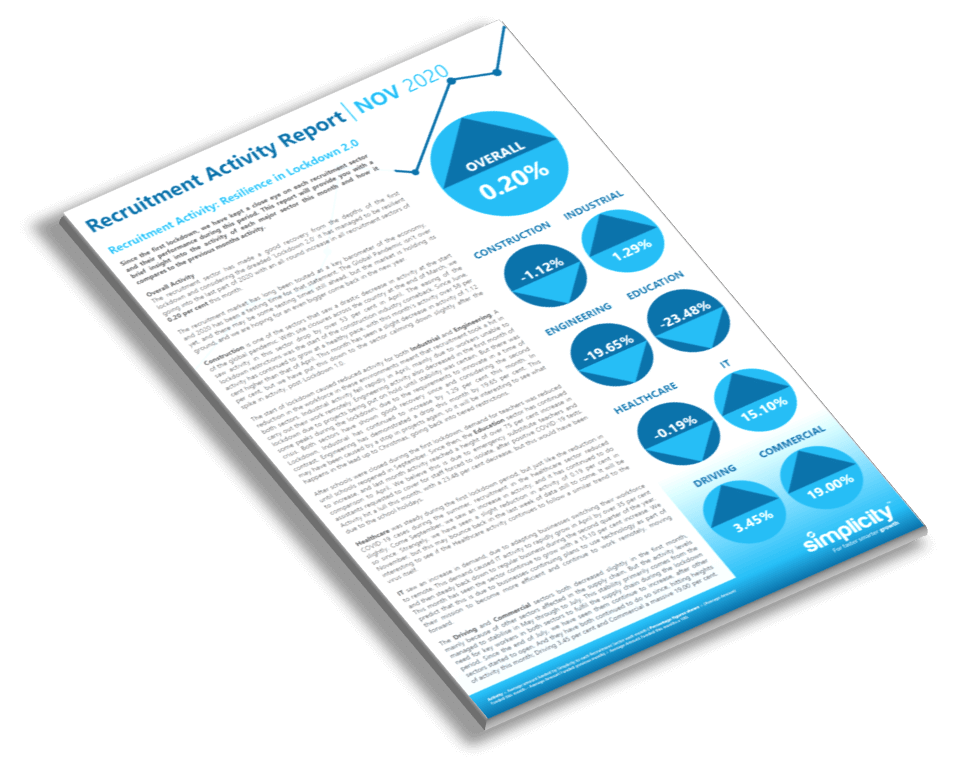 download our latest Activity Report
Download our latest Recruitment Activity Report, for an insight into how different recruitment sectors are performing.
Plus, gain FREE access to our resources hub where you can get the latest industry news, insights and tips on how to achieve faster, smarter, growth.
Download Now