Contract recruitment is a developing choice that accounts for 75% of the £42.9 billion annual revenue of the recruitment business.
There are particular distinctions that recruiters with experience in permanent positions may need to consider for the ambitious individuals who try their hand at contract work.
Speed is crucial.
Even in the best circumstances, recruitment moves rapidly, but time is the biggest deal-killer in the contract market. Roles are filled much more quickly in the interim sector, and the early bird gets the worm. Thus, recruiters must work quickly.
Recruiters must know openings before posting to stay on top of the game. This entails closely monitoring their networks and checking who is recruiting and what initiatives are getting momentum. It also depends on whether applicants match the requirements and are easily accessible.
Relationships between candidates are increasingly crucial.
The contract differs from permanent in that maintaining a relationship with applicants is not just good form. To ensure recurring business when your contractors re-enter the market, you must nurture and keep them satisfied.
Contractors are also a valuable source of market knowledge. They are your eyes and ears in the business, making them the greatest approach to finding the next big deal.
To maintain the relationship, recruiters should follow up after the first day of placement, at the end of the first week, and then periodically after that, even by meeting in person.
The marketplace has changed.
One of the critical distinctions between the markets is that the perm market includes many openings, placing a greater focus on the recruiter's ability to headhunt the top candidates.
Contract recruiting emphasises finding the right post, but a skilled recruiter already has a great pool of prospects in their mix.
Every customer and applicant presents a chance to learn about the state of the industry, if managers are hiring, what projects are popular, and whether they are aware of any other prospective contractors.
More inventive candidate selection
Recruiters must be more creative in their talent acquisition techniques since the top contract prospects are hidden away in the market's more obscure corners.
Where can I locate developers?
Searching outside of LinkedIn for talent?
Contract applicants have access to more alluring incentives than income and career packages, with relocation being less of a hindrance and flexibility and work culture being given more weight.
Long-term goals and professional growth are not considered when hiring contract employees.
Withstands economic turbulence
Pay attention to market trends since contract activity increases and permanent openings lock doors during economic hardship or headcount freezes.
For this, a recruiter must make sure they are available at the appropriate time and location because changes in the contract market occur fast and call for a quick response.
Simplicity is here to help.
With the assistance of Simplicity's solutions, recruiters start, prosper, and grow. Simplicity offers recruiting technology as well as financial and back-office support.
To learn how we can help you call 01594 888518 or email sales@simplicityinbusiness.com to speak with one of our experts.
Keep It Simple. Get In Touch.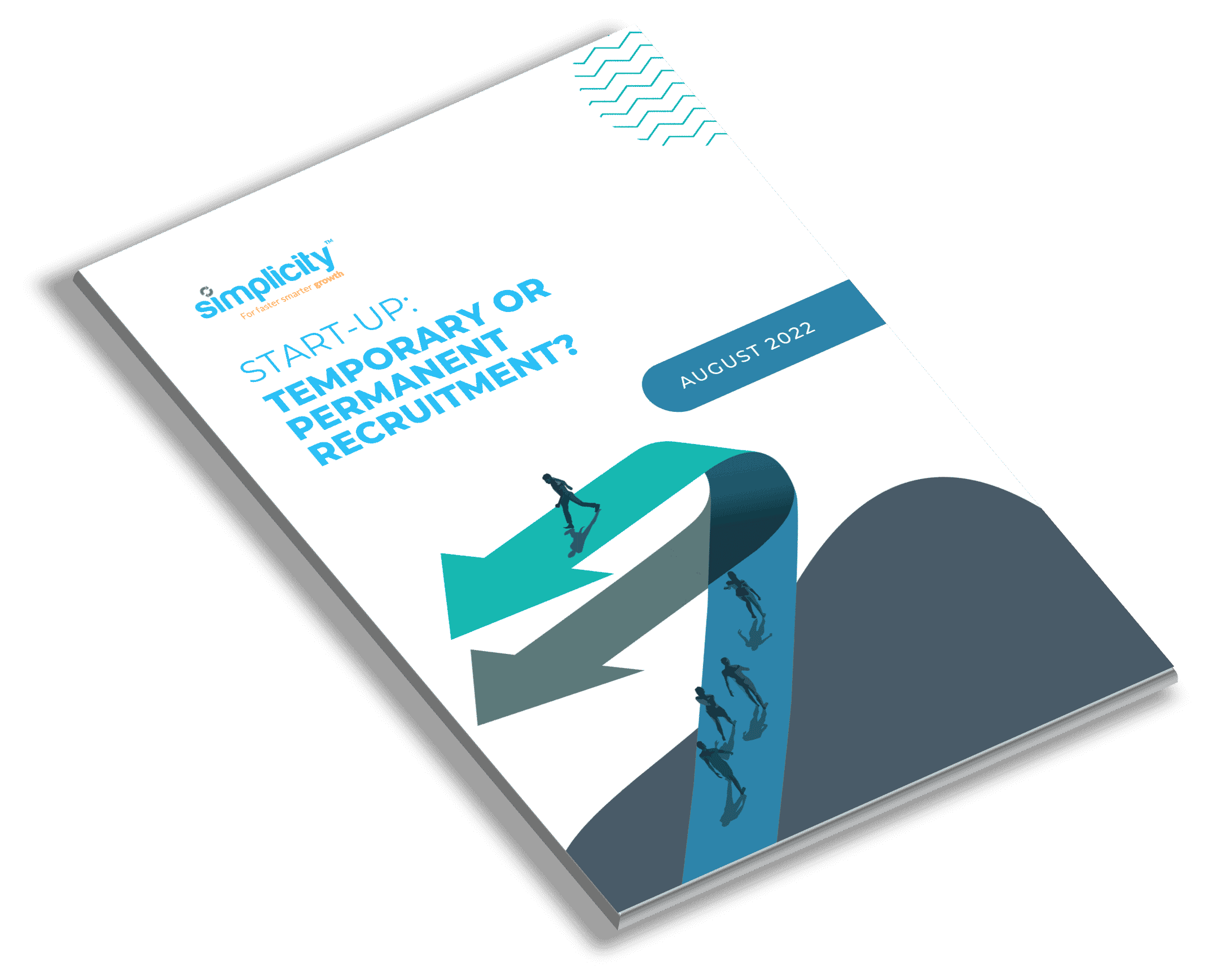 START-UP: TEMPORARY OR PERMANENT RECRUITMENT?
You must decide what kind of recruitment service you want to offer if you are considering opening an agency without any prior business expertise.
Here we highlight some of the benefits and drawbacks in both temp and perm recruitment, as well as the factors you should consider before proceeding.
Download Now
Read our latest blog, One thing ALL great owners and leaders know about their business