Starting your own recruitment business can be frightening. However, with some guidance, it is not as daunting. Instead, look forward to the venture you are about to begin. You can do just that with these FAQs for starting a recruitment business.
What is the cost of starting a recruitment agency?
There is no direct answer to this question; not one business is the same and requires the same needs. However, there are a couple of factors that all recruitment businesses must face when setting up, such as: setting up costs, phone costs, office rent, website costs, and the money to pay candidates' wages if you are self-funding.
What finances are available for recruitment businesses?
Don't worry; you don't have to be funding your business alone. Many financial options are available for your recruitment business—including factoring, bank loans, and invoice finance. These solutions will remove your business's financial burden and provide you with the funding to prosper and grow.
What protection do I need for my recruitment business?
Protection is crucial for survival when starting a recruitment business, especially if you are a limited business. Moreover, protection such as employers' liability, debt protection and public liability insurance is necessary. As a recruiter, debt protection against non-payments is the most vital, particularly for self-funding recruiters, as the money you will use to pay the workers will be your own. Furthermore, getting the money back will be difficult if you have no protection and a client doesn't pay.
Do I need to be using recruitment technology?
Yes. Recruitment technology such as a CRM (Customer Relationship Management) system will significantly streamline your processes when placing and organising candidates. Research the different types of technologies available before you sign a contract with a company; also, ensure you pick the technology best suited for your business needs.
What type of recruitment agency should I start?
Many types of recruitment businesses exist, such as placing candidates in a niche sector instead of in a common industry. For example, you can recruit for general jobs, or you could specialise in an industry. Recruiters specialising in niche sectors tend to generate more money as the candidates are more qualified in specific roles and harder to find and place.
Temp or Perm?
There are two types of services your recruitment business can offer, which are temporary or permanent. Choosing between them can be difficult as there are many benefits for both temp and perm services.
Read our latest guide to give you more insight into the benefits and drawbacks of temp and perm recruitment here: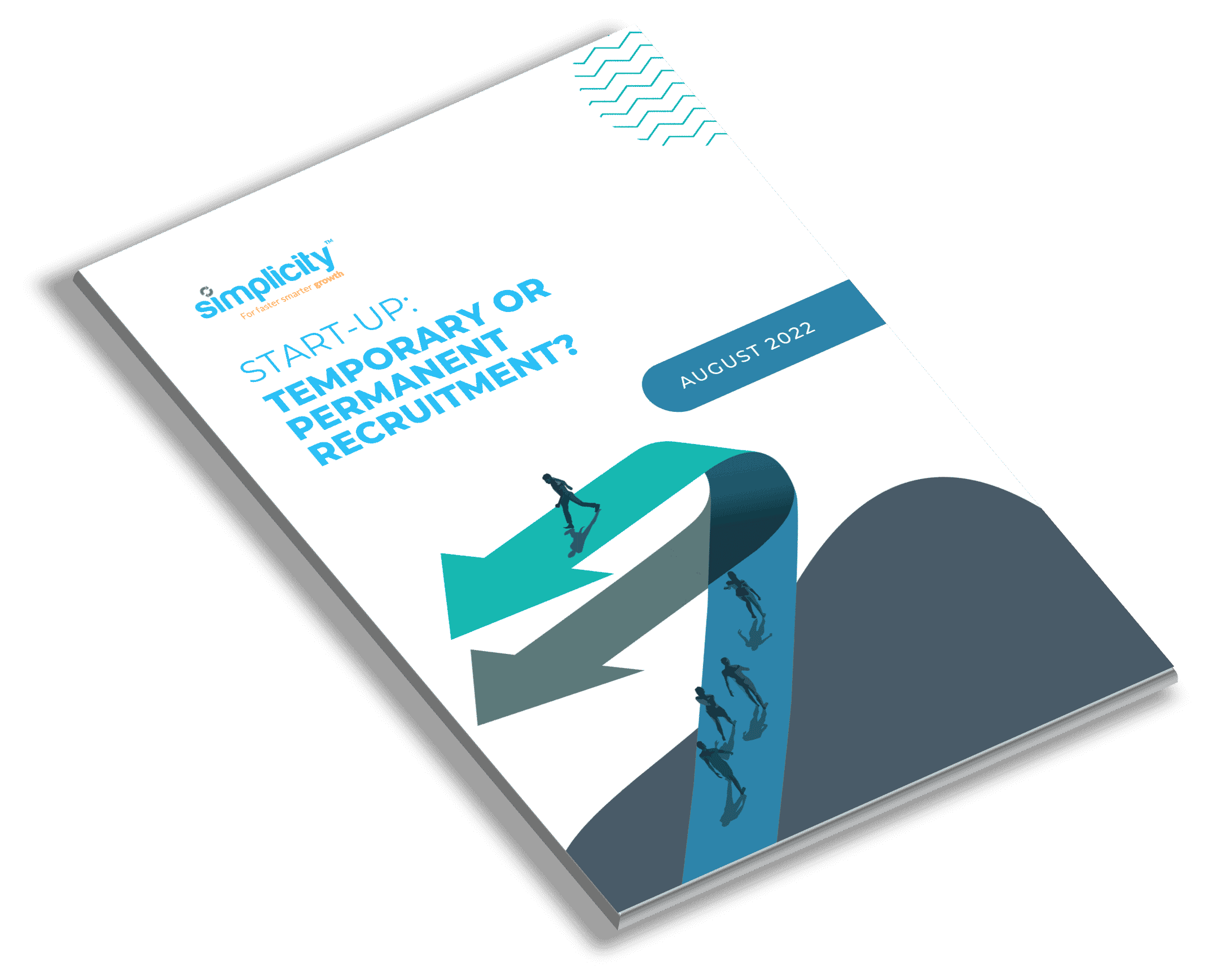 Download our Free Temp or Perm Guide
Download your copy of 'Start-up: Temporary or Permanent Recruitment?', our practical and simple guide to help you decide what type of recruitment service you want to offer.
Plus, gain FREE access to our resources hub where you can get the latest industry news, insights and tips on how to achieve faster, smarter, growth.
Download Now
Should I outsource?
Outsourcing, more specifically financial outsourcing, is a must if you want to grow your new recruitment business quickly. Whether you outsource admin tasks that do not generate you any profit or financially outsource, it will help the growth of your recruitment business tremendously.
Simplicity is here to help
Simplicity has supported the thousands of recruiters start and grow successful recruitment businesses. Our solutions include 100% upfront finance, full back-office support and free recruitment technology.
Contact a member of the team today on 01594 888518 to find out how we can help you get started.