As a recruitment industry professional, you'll know only too well that time, talent, and candidates can be hard to come by. But, by investing in the largest professional social network, LinkedIn with LinkedIn Recruiter, the worries that may have plagued you in your recruiting efforts can become a very distant memory. All you have to do is ensure you utilise it effectively.
Investment breeds innovation.

LinkedIn Recruiter opens up many opportunities, including a more organised profile, and a recognised premium badge. As well as a deeper look into the network for decision-makers, experts and sales.
Conduct powerful searches.

LinkedIn Recruiter allows you to search for a specific type of candidate using robust filters. As a result, those seeking the perfect candidate, whether passive or active, can zone in. Establish and refine your search, save it, and you'll receive alerts whenever something changes, even for those who are 'open to new roles,' which can eliminate many of the messages associated with passive candidate recruitment.
Monitor candidates.

InMail gives recruiters the ability to contact anybody that catches their interest. However, even if you don't decide to send an InMail, you can (and should) still watch and receive updates on potential passive and active candidates. Add potential talent to hiring "projects" and see who else is tracking that person in your company.
Manage your talent pipeline.

Recruiters must build, track and manage potential talent with folders, reminders and smart to-do lists. Additionally, you should synchronise team activities with shared projects, searches, profiles, and applicant notes. LinkedIn Recruiter provides a seamless workflow to manage your talent and be more successful in your candidate search.
Realise the potential.

Talent is hard to come by, even harder when each candidate looks and sounds the same. In the future, LinkedIn Recruiter will likely add features such as sourcing internal candidates, receiving and tracking employee referrals, and a more fully developed applicant tracking system. Failure to invest in the software now will result in you falling behind the times, the technology and most importantly, the recruiting game.
Don't underestimate the power of LinkedIn Recruiter. LinkedIn has considerable potential – especially when time, effort and investment are explored. However, whilst LinkedIn Recruiter opens up a whole new world for recruiters, it is just one piece of the puzzle when preparing your agency for growth. Although social media is gaining momentum in a fast-paced industry, if you're a recruitment business owner who wants to take advantage of the changing economic climate, you shouldn't just be focusing on ways to source candidates – this alone won't transform your business.
Lower your overheads, invest in back-office solutions and streamline your recruitment process. Take advantage of increased credit and improved cash flow, and find out more about 100% funding and the rebate schemes available – there's a world of solutions out there, and they're ready for the taking – contact Simplicity to find out more.
Editors note: This post was originally published on 31st October 2014 and has been completely revamped and updated for accuracy and comprehensiveness.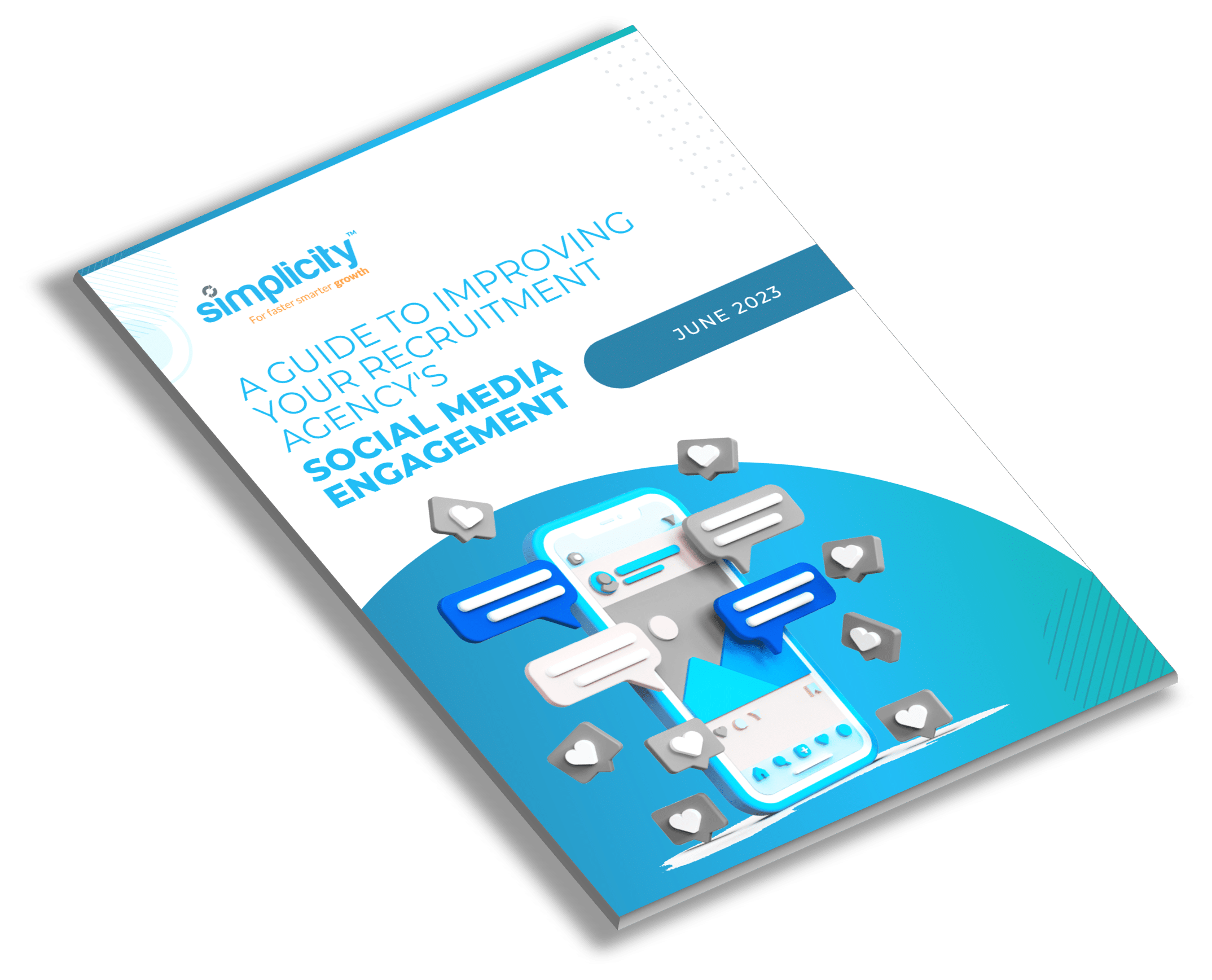 A Guide to improving your recruitment agency's social media engagement
Strong social media interaction indicates that a modern company with an online presence is making an impression in the market. It's not just about being popular; this interaction is an important part of your agency's marketing armoury: it's about creating genuine connections with existing and potential customers, which will help your brand (and ROI) online and offline.
Download Now