Start your own recruitment business today
Have your circumstances changed and you're thinking about becoming your own boss? Or are you one of the thousands of recruiters who dream of starting their own recruitment business, but something is holding you back?
Starting your own recruitment business has never been easier with Simplicity QuickStart.
A fast-track solution that enables you to start your agency instantly, without the hassle, time-restraints, and expense associated with setting up a business.
NO COMPANY REGISTRATION
NO ACCOUNTING REQUIRED
NO HMRC OR VAT HEADACHES
NO COSTLY BUSINESS INSURANCE
NO CASHFLOW WORRIES
NO TIME CONSUMING ADMIN
All you need to do is… Source candidates, win new clients, and fill vacancies! 
Simplicity will take care of the rest. Providing you with access to your profits each week, invoicing your clients, and paying your workers, every Friday – without fail.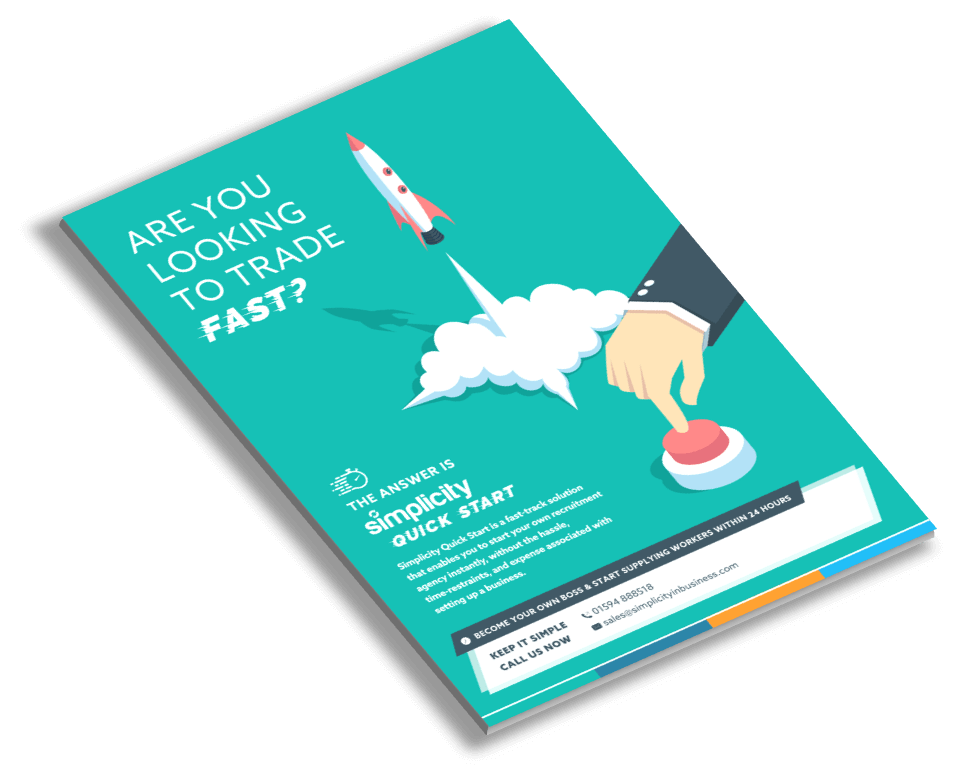 download a copy of our Quick Start brochure
Our Quick Start brochure will give you an insight into how Simplicity can help you become your own boss & start supplying workers within 24 hours.
Plus, gain FREE access to our resources hub where you can get the latest industry news, insights and tips on how to achieve faster, smarter, growth.
Download Now
Become your own boss and start supplying workers within 24 hours
Starting a construction agency?
Simplicity Quick Start takes care of CIS GROSS Status and insurance requirements, so you can start supplying construction workers today.
Industry-Leading Services & Tools
Plus, you'll have access to a wide range of industry-leading services and tools, to help you get started and grow your agency.
Become your own boss today with Simplicity QuickStart
Find out how our Simplicity QuickStart solution can help you get started today by filling in the form below.