Perm Finance & 12-Month Rebate Scheme Fuels Agency Growth
Looking at two permanent recruitment businesses starting simultaneously and are equally excellent salespeople. In a year, one of these agencies has continued to expand its client portfolio and recruitment staff, while the other is catching up, irritated by their slower rate of progress. So, what could be causing the difference?
The answer here is cash flow. Cash flow will determine growth, specifically the lack of access to the money owed.
Even if you are placing several candidates and it looks like you are on track, you could be waiting over 60 days, possibly more, before your invoices are paid. As a result, your business can't grow anywhere near the speed you want until those funds have cleared your account. That is why regaining control of your finances is not just necessary but critical to the long-term success of your agency.
This is where Simplicity comes in.
We offer 100% recruitment finance and a 12-month rebate scheme to permanent recruitment businesses. The sole purpose of this solution is to help recruitment agencies bridge the financial gap between the moment the recruitment agency sends out an invoice and the time the client has paid the money into the agencies account.
Despite the recent effects covid has implemented on the world, the recruitment industry is strong and continuing to grow. Because of this, there are countless opportunities recruiters can take advantage of to improve and grow their business. This is when Simplicity can really make a difference to a recruitment agency.
100% Advance on Perm Placements
Our Perm Finance Solution provides recruitment agencies with 100% funding upfront as standard on all permanent placements. As a result, you will have immediate access to perm fees within days of your placement starting rather than having to wait upwards of 30 days, helping your recruitment business grow quicker than ever.
Any concerns about cash flow or your ability to fund basic outgoings like employee salary and day-to-day costs will be eliminated as a result. Instead of spending time chasing payments, you will be spending more time chasing new business and other fee-generating activities.
Unique 12-Month Rebate Scheme
We also offer a 12-month rebate scheme. If a candidate you have placed leaves your client within the first 12 months, we will pay the rebate. This, together with complete access to our back-office support & free recruitment technology, provides you with the foundation you need to become more competitive and boost your fees.
For Faster Smarter Growth
Altogether your business will result in faster and smarter growth from cash flow security and increased profit margins. To learn more about our perm finance and unique 12-month rebate scheme, please get in touch with us today on 01594 888518 or download our brochure.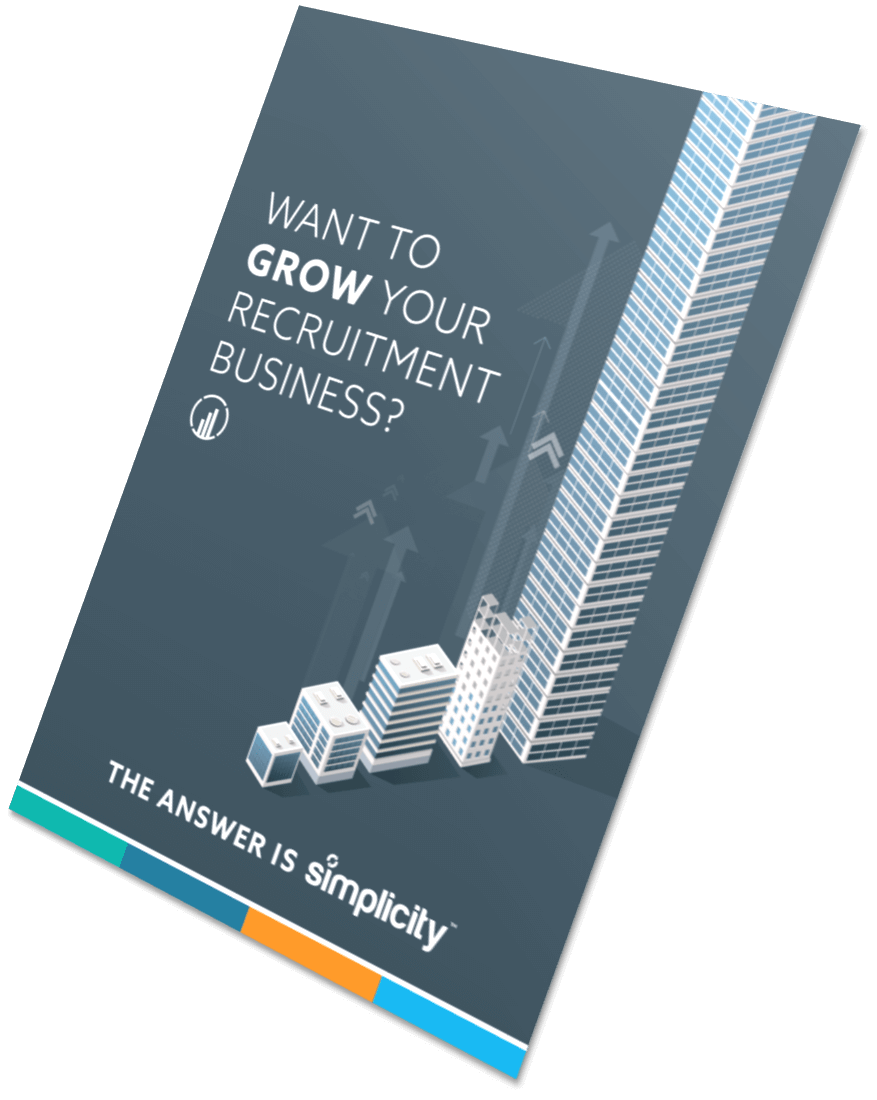 download our brochure
Our Established Agency Solutions brochure will give you an insight into how Simplicity can help you grow your recruitment business.
Plus, gain FREE access to our resources hub where you can get the latest industry news, insights and tips on how to achieve faster, smarter, growth.
Download Now